Hall's banned from YouTube
Pastor pair Stefan and Mary Hallman has been banned from YouTube.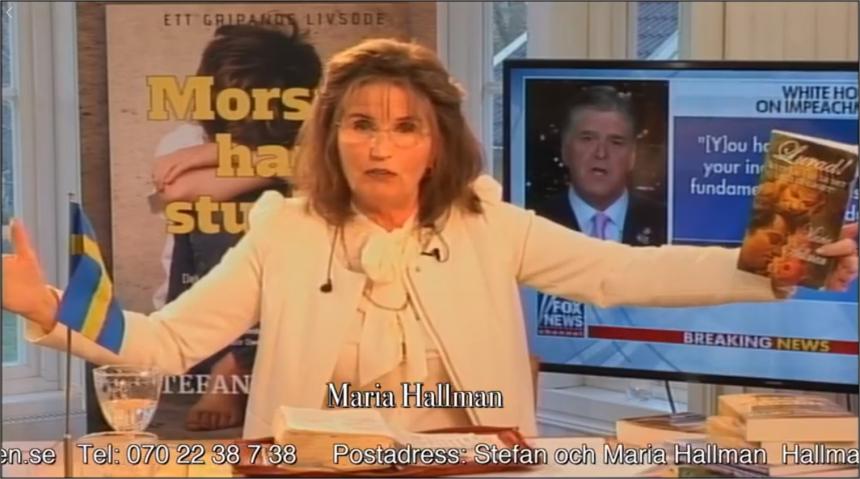 Mary Hallman from an earlier live broadcast including YouTube.
The famous pastors Stefan and Mary Hallman's YouTube channel has been shut down by YouTube due to "repeated or severe violations of YouTube's policy prohibiting hate speech."
---
Av
Christer Åberg
torsdag, 17 oktober 2019 23:38
---
"Crime against their policy"
Pastor pair Stefan and Mary Hallman has sent live from his studio in Myresjöfönster both on Facebook and YouTube. But now their YouTube channel has been removed from the Google-owned company on the grounds that they have made "repeated or severe violations of their policy prohibiting hate speech" .
Pastors believe that this is a lie because they love all people, they preach the Gospel and brings in all the programs viewers the opportunity to accept Jesus.
The email from YouTube
Mail if the shutdown as Youtube sent to Hall's.
In the email that Stefan Hallman got it also says that he "can not open, possessing or creating any other YouTube accounts" . Suspension will be thus forever and worldwide. Trying to go to their channel met by this text:
Trying to view a video that remains embedded on the web, it looks like this: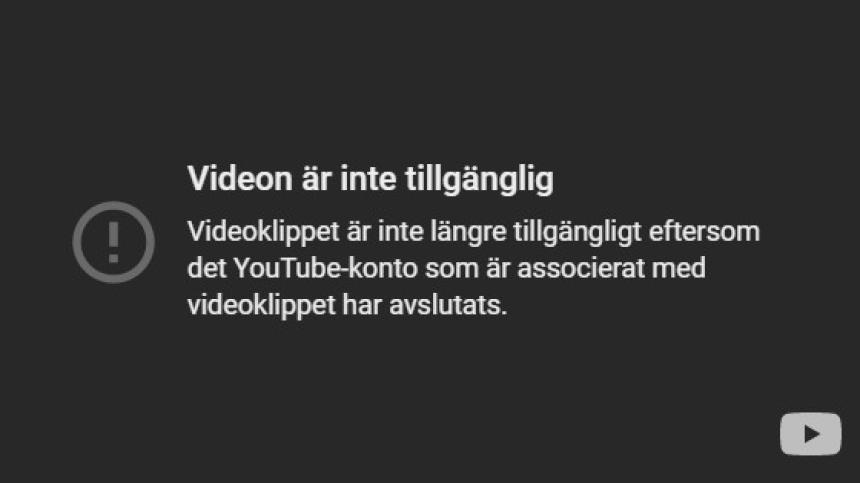 Stefan Hallman says on Facebook :
"We are shocked and very sad that our YouTube channel with 461 subscribers are closed forever."
strengthened policy
The channels will be banned from YouTube, we have read and heard several times since they strengthened their policies . There will be both Christian and non-Christian. Recently I read that another Christian channel had been closed. A channel that I reacted against and did not agree with everything.
I have also heard that 200 Muslim channels have been closed down. They have run Isis propaganda and more.
I have also heard that Youtube will become even more stringent so we can expect more closures. Here both Christians and non-Christians suffer.
My setting
Personally, I have decided that I will be blogging and use of social media as long as possible to bring the message of Jesus Christ. This has been my attitude from the beginning as I did on my website to a blog site in 2007.
I also decided that I'll stick to Jesus so that people get the opportunity to receive Him and be saved. Do not get involved with so many other things, which can both obscure and risk can no longer reach the message of Jesus.
Publicerades torsdag, 17 oktober 2019 23:38:55 +0200 i kategorin och i ämnena:
---
Senaste live på Youtube

Apg29.Nu - Live med Christer Åberg
---
"God so loved the world that He gave His only begotten Son [Jesus], to every one that believeth in him should not perish but have eternal life." - 3:16
"But as many as received Him [Jesus], to them He gave the right to become children of God, to them that believe on his name." - John 1:12
"That if you confess with your mouth that Jesus is Lord and believe in your heart that God raised him from the dead, you will be saved." - Rome 10: 9
Want to get saved and get all your sins forgiven? Pray this prayer:
- Jesus, I receive you now and confess you as Lord. I believe that God raised you from the dead. Thank you that I am now saved. Thank you that you have forgiven me and thank you that I am now a child of God. Amen.
Did you receive Jesus in prayer above?
---
Senaste bönämnet på Bönesidan
måndag 21 september 2020 17:35
Jesus hela mig ifrån de otäcka minnena. Sudda ut dom helt så dom inte kan skada mer. Ta bort dom. Hela mitt inre efter allt det som hänt.
---
Senaste kommentarer
---
Aktuella artiklar
---