This is one of the most curious of God leads, as I have ever been through.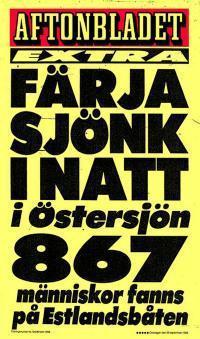 Aftonbladet placard September 28, 1994.
Today is the 25th anniversary of the ship Estonia went under the Baltic Sea. With this in mind, I want to share with you my own testimony of the Estonia disaster from a wonderful chapter of my beloved book The longest night.
Av:
Christer Åberg
lördag 28 september 2019 01:20
📧
Today it is 25 years since the Estonia sank, and 852 people lost their lives. Only 137 people survived.

The passenger ship M / S Estonia went under the Baltic Sea September 28, 1994 during its journey from Tallinn to Stockholm.
There were 989 people on board, of whom 852 died. Of these, the 501 Swedes. 51 Swedish survived. As all survived the 137 people.
Estonia disaster is the largest shipwreck in peacetime ever in Nordic waters. It is also one of the deadliest as humanly occurred during the late 1900s.

The trip to Estonia
From the book The longest night of Christer Åberg.

It was a thing that had to happen, or rather, one thing that did not happen to the crucial meeting in Tranas could take place. And this is also one of the most curious of God leads, as I have ever been through.
After I got saved, I went later in two Bible schools. The second Bible school was in Jönköping Pentecostal Church. The name was short, Pentecostal Bible College and Pastor Leif Svensson was the school's head teacher. The school belonged really Viebäcks college and lasted for a year. It was really important for me.
Since I had great confidence Leif Svensson, I kept in touch with him after school ended for me. I used then to call him now and then. On one such occasion told Leif that he had been in the former Soviet Union and preached about Jesus. Many people had received Jesus and were saved in the meetings, and it would have been absolutely fantastic.
The heel of my heart. I want to be with, screamed it in my mind. But I would never have time to travel to the Soviet Union. Some time after our conversation dissolved the gigantic empire.
When I later called Leif, he told me that they would have a large Christian campaign in the former Communist palace in Latvia's capital, Riga. He asked if I wanted to join, and I wanted to, of course. It was again absolutely fantastic: Many people were saved and supernaturally healed of various diseases sJags.
It would also later become a second trip to Riga. This time meetings in a large sports hall. Both campaigns left a deep impression in my mind and I wanted to be involved in more such amazing events in the future.
***
Pentecostal Church in Ljungby rented several apartments and I now had a time lived in it lying at the top. It was a big one, an attic with a sloping ceiling and skylights. It had a large room and a greatly elongated kitchen and an alcove which was actually more like a small room. I enjoyed thus well in the apartment, which even had a small balcony. When I stood on the balcony, I had a good view of the station, which was nearby.
In the large oblong kitchen, where I had my red corded phone, I called one day up Leif Svensson. (This was before the cordless phones and mobile phones' time.) When told Leif Svensson to me:
"We're having a great campaign in the capital of Estonia. We will go there with a large passenger ship from Stockholm. "
The heel again to my heart. I would really like to come along. I knew how amazing it would be because I had been in the previous two campaigns. But I had a big problem. It spelled the money is.
"I would really like to come along," I said to Leif, a little sadly and resignedly. "But I can not afford the trip. I simply have no money. "
Since I was at this time was unemployed, I was living on the margins. I could never indulge me something extra. I received the money from unemployment insurance, and it was enough only to the minimum necessary. Every six weeks I was, however, for some reason, a little more money. It was due to a countervailing factor, which I never really could fathom. When Leif was told that I could not afford, said he still believed healthy
"No problem. We will fix that. You get the trip much cheaper, and the others do not know it. "
It was because of these trips that "ordinary people" could follow. They paid the tickets themselves, and so they were able to assist in various ways at the meetings. They were among others to be with and pray for people, often in the hundreds, who came up and wanted to be saved. When these ordinary Swedes also prayed for people who were sick, they were healed. This was a very faith-building: One got in other words, to be in reality when Jesus did wonders and miracles: Also, I now know that Leif's Bible class would follow and participate in the campaign. In this way, they got a unique chance to practice what they had learned in Bible school. They would with their own eyes to see that it worked to believe in Jesus.
Leif Svensson made an effort really to make good advertising for the trip, so that I could follow. He told me how good campaign would be and how amazing it would be to travel to the state of the art passenger ferry from Stockholm to Tallinn. We would stay in their own cabins on the ship and I longed now more and more there. Before we ended the conversation Leif promised that he would send information about the campaign and also a nice brochure about the luxurious and stately passenger by mail. A few days after the conversation I heard from my large living room how it slammed into the mail slot in my door, and the thud of something landed on the hall floor. I rushed my own? Ket until The door clean to see if it was the post that had arrived. Yes, there it was on the doormat. I wanted to see if the letter with information about Estonia journey had come. All other mail letters, magazines and advertising was this time not very interesting. To my delight, I found a large brown envelope with Leif Svensson as the sender.
I immediately ripped the brown envelope with my index finger as the occasional letter knife, pulled out the contents and found it a bit amateurish made information about Estonia journey that Leif had sent to me. My eyes were drawn too soon to the beautiful, welcoming brochure about the large luxury passenger ferry that would take us to Estonia.
I studied the great ship with a dreamy gaze. The card was taken diagonally from above. The ship was far and wide where it was traveling on the blue sea with long white swell behind. What if I could go with. What an adventure it would be, in many ways.
Yes, I really wanted to follow, but the ache in my mind when I just reminded myself of the economic situation I found myself in. What should I do? Well, perhaps what I always used to do when I ran into trouble or needed anything: Pray to God. I bent because my knees by the bed in the small room, which was my alcove, and prayed to God in Jesus' name. I asked him to give me the money needed for the journey. And when you pray to God to get answers to prayer - in one way or another.
I felt an older Christian couple who also were my friends. Their names were Ruth and Berndt and had a well-known hardware store in central Ljungby. Now and then, I used to visit them. I always felt welcome in them. Never ever was I refused to come in when I called at their door. And it happened quite often.
They lived near the water tower, which was on a hill just above the center. It took about twenty minutes to walk up to their brown brick house. When I visited these friends invited me always coffee and cookies while we sat in the brown sofa in the large beautiful living room.
We would often watch Christian videos together. At this time, it took still a VCR when you would see pre-recorded movies on television. Ruth and Berndt was really stocked with Christian films from many different campaigns and meetings around the world. The films were very interesting and they had with renowned speakers. It then got both spiritually and bodily to life when you got there. We talked of course about Jesus, and about the spiritual situation in Sweden.
Ruth and Berndt always had a lot to tell and intensive way. I also had a lot of heart, so it would often be late when we met. We had all three tend to lose track of time. So it was no wonder that it often had become night before I walked home. I was always prepared for long nights when I visited them.
One evening it was time for another visit to the Ruth and Berndt. I walked out of my apartment in the Pentecostal church, crossed the train station, walked across the square and then trudged up the long hill. On top of the hill I turned accustomed from the water tower onto the side street that led to their house, went up the short stone steps and rang the bell.
Just opened the door and greeted me as usual welcome set. As always, I felt this time warmly received by my friends. It felt so good to be with them. Since I was still alone at this time, it was more important for me to have fine Christian friends to socialize with.
We sat, as usual, down in the living room TV sofa, started chatting, watched movies, talked, drank coffee, watched movies, talked ... In short, what we always used to do when we met, and the hours flew as usual away.
Sometime during the long evening, I began to talk about the journey, as I so very much wanted to go on.
"My former Bible teacher at Bible School Pentecost in Jönköping, Leif Svensson, will make a new campaign in Eastern Europe", I told Ruth and Berndt.
"For Latvia again?" Asked Berndt while he drank a small sip of coffee and chewed up a cake.
He was immediately interested because he had a great interest in evangelization in other countries, especially in Eastern Europe. The video flickered on their television screen, but now it was suddenly none of us were interested in it. The upcoming trip were the focus, and it had even caught my friends' ears. They knew that I had done these kinds of trips in the past and they knew how much the trips had meant to me.
"No, Tallinn in Estonia," I replied at Smitty's question. "It will be a great revival struggles anion which, in the same way as the campaigns I've been on in Riga."
"What fun" tabbed Ruth in while she poured some more coffee in my empty cup. "Will you come?" She asked, holding at the same time until cake plate to me that I would take even a cake for the newly poured the coffee.
"I'd really like it," I said, "but there is a small snag. I simply have no money for the trip, so I can not afford to go. "
I thought I did not really because when I mentioned it last. This couple had namely plenty of money. They took the popular and busy store in Ljungby. But we used to talk openly about everything, so therefore it was really no begging on my part.
We continued to talk about everything, but when the bell had become half past twelve, I thought anyway that it was time to end our Community. The conversation continued for a while at the front door before we finally parted.
I walked down the long hill and as usual had great views of the center in the darkness. Streetlamps, houses and shops beautifully lit up in the dark on the way back to my apartment between the city's cinema and the train station.
After we parted that night thought Berndt on what I had told about Estonia journey. If I wanted to go on the trip, but I did not have the opportunity because of lack of funds.
"If Chris greets us again before the trip, I'll give him the money," reasoned Berndt himself.
These thoughts I knew of course nothing about. Berndt told me much later that he was going to give me the necessary funds, if I come back before the trip. The strange thing was that I did not.
This was a small part of the supernatural and God's clear guidance. I had asked for money for the trip, but I had also asked for a wife. God was working now so that I would soon have the opportunity to get answers to prayer.
***
By this time I was told that unemployed. Every six weeks, I used to get extra money from unemployment insurance, and now it was time again. This I had totally forgotten, but when I'm with my index finger slit open the envelope from unemployment insurance, I saw that they had put in extra money this time. Suddenly I had myself afford the trip to Estonia.
But something had happened in my mind. Interest in traveling to Estonia was no longer there. It had somehow disappeared while I waited. It was very silent in my heart for the planned campaign in Tallinn. I had absolutely no desire anymore to travel to Estonia.
I told my friend Tomas, who took me to the Pentecostal church and has won me Jesus, I now had extra money in the account. He knew how much I wanted to travel to Estonia, but that the economy put a spoke in the wheel.
"But then it's God's will that you should go!" He exclaimed spontaneously when I told him the news of the money. I'll never forget my answer when I bit grimly, but with great conviction replied:
"No, it's not."
I did not really know what I said. It came just somehow out of my mouth and my lips. Here I had been struggling and asked to be allowed to travel to Estonia. When I finally got the opportunity, I said that it was not God's will.
Now afterwards I understand that it really was not me who said it. It was the Spirit who had spoken through me. In order not to let "the spiritual" or cocky, I toned down, however, it slightly by adding:
"I do not feel like it."
I thought it sounded a bit better than to be so cocksure. But after the statement that the matter was discussed end. Thomas never took up more thing - and I do not either. Something had happened in my mind regarding the campaign in Tallinn. My desire was completely blown away and I could not really understand it.
I traveled nowhere that time, and I am forever grateful. Afterwards, I realize that it was God who in that way had led me in a miraculous way.
***
A young woman in Linkoping, only a few months younger than me, also thought about to go on the same trip. This woman had, unlike me, had grown up in a Christian family. She was thus saved and had already managed to work as an evangelist in a parish. A few years earlier she had met Jesus for renewal and now lived an assigned life to God.
Some of her friends had for a long time tried to influence her to join us on this amazing and adventurous journey as it would mean to come to Estonia. But she did not know for sure how she would do. Would she follow or not? She was really in two minds at home in their two-room apartment in Linköping.
On the table in her cozy kitchen was the exact same sheets on the trip home with me. She had of course a copy of the nice brochure about the luxurious passenger liner, which showed the magnificent ship on the blue sea with the white wake behind.
There, in her apartment, she had a wrestling both with oneself and with God. How could she do?
A short time later, I had been down in the center and has done a case. On the way home that evening, I remember it so well, I walked past a newsstand. Especially one of the headlines was sticking out from the others, I think it was the middle of three. I glanced little distracted it when I passed the kiosk. The headlines, it was with big black letters: "Ferry sank in the Baltic in the night - over 800 dead"
Despite the terrible and shocking löpsedeln, so I noted it barely. Probably because I assumed that it was not at all touched me, and it always happens somewhere else and not "here". In addition, I thought the wrong idea, that it would not affect us in Sweden, but other peoples and countries. How often do people and I was not a bit different that time. When accidents and disasters happen, it's always someone else in the world. It does not happen in Sweden and even less concerned I am of it. Strange thought, but it can unfortunately be.
The next morning, I sat quietly and ate breakfast in my kitchen I put in my cereal and a sandwich with salami while I absentmindedly listened to the news bulletin on the radio.
Newscaster talked about a great disaster in the Baltic Sea. Suddenly I was reminded of löpsedeln I had seen the night before. A ferry had sunk, and more than 800 people had died. I began to listen more carefully. The reporter said that the ferry had been on its way from Estonia to Sweden in the middle of the night had gone under the waves of the sea.
Estonia? But it was to Estonia, I would have gone on my trip? And it was there that Leif Svensson were traveling and having his campaign. He had also arranged for a large company that would be. Moreover, almost all Bible school class to be with.
My thoughts were interrupted again when Newscaster repeated the name of the ferry that sunk to the ocean floor, "ferry name is Estonia".
Suddenly I was totally focused and thought dumbfounded: Estonia? Not that that big boat was called that would take us to Estonia?
I stopped chewing at me flakes and put down the spoon. Sandwich with dotted sausage let me be, and I bent forward instead of looking in the newspaper pile. Among newspapers and reklarnblad I looked for the brochure to quickly get to know the name of the ship.
It was not long before I found it. Not without fear I looked at the picture with the giant ship that traveled proudly on the sea with foaming waves behind. My eyes searched eagerly for the ship's name, which was written in clear black letters on the huge ferry. The ship in the picture bar indeed named Estonia.
I stared at the brochure beautiful picture. News The voice I heard not even longer. The only thing that now existed in my mind was the name of the ship: Estonia. I read it over and over again. The small Baltic country's pride M / S Estonia had sunk to the bottom. My friend Leif Svensson and his entire company had probably been on board. And I would also have been involved.
When it dawned on me that it really was Estonia who have fallen, toted up the questions in your head. I sat for a long moment at the kitchen table and stared at the little amateurish advertising brochure about the campaign and the much more professional brochure Estonia, now apparently lying on the Baltic seabed. Almost unreal and slightly blurred, I saw the two brochures while I tried to put together the picture of what happened. My thoughts went to Leif Svensson. Suddenly it hit me that I should call his wife, Sara. She would not go on the trip this time, as she sometimes did. She had, among other things, followed by Riga on the same trip I on another occasion. But this time, she had chosen to stay at home. I raised my red corded phone and dialed the 036 number to Jonkoping.
Only a few signals could occur before she answered. Probably Sara sat and watched the phone that day, because it was probably many who called and wanted to hear what had happened. Leif had many friends and knew of course also a lot of people through their task. Surely there was also many families of students who wanted to seek more information about their loved ones. Sara confirmed that Estonia was the ship Leif and the whole party was on. So she said a sentence which I will never forget:
"But I do not have so much hope ..."
She had therefore no hope that Leif had fared. And he did not. He and the other pastor, Lennart Carlsson, along with much of the Bible class, the rest of the party, and hundreds of others were killed that night in the depths of the sea when the Estonia sank in fifteen minutes.
***
I have thought about this event more than once. I could have been on board Estonia. Instead of following along on the trip to Estonia, I chose to stay at home, because I do not "feel" for it.
The woman from Linkoping, by the way, named Marie, decided for some reason to travel to Israel rather than to Estonia - although she initially decided to join Leif Svensson's campaign trip.
When I later learned that I realized even more how incredibly God had led her and me.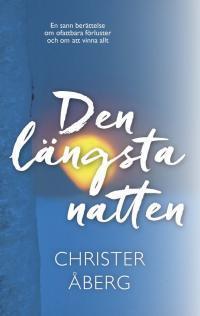 From the book The longest night of Christer Åberg published by Semnos publishers . Chapter 2: Journey with Estonia. Pages 25-36.
Christer Åberg

Ditt stöd behövs
Stöd Apg29 genom att swisha in 29 kronor till 072 203 63 74.
Tack!