Ev yek ji meraqên herî Xwedê rêça e, wek ku min berê derbas kirine.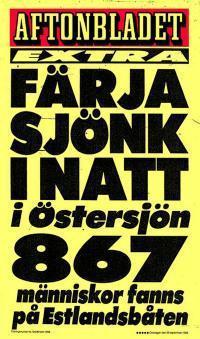 pankarta Aftonbladet September 28, 1994.
Îro 25'emîn salvegera gemiyê Estonia di bin Deryaya Baltik çû e. Bi vê di hiş de, ez dixwazim bi we re parve şahidiya xwe min ji karesata Estonia ji beşa ecêb ji pirtûka min ê delal The şeva herî dirêj.
Av:
Christer Åberg
lördag 28 september 2019 01:20
📧
Îro ev e 25 sal in ji ber ku Estonia noqî, û 852 kesan jiyana xwe ji dest da. Bi tenê 137 kes ji bûyerê filitîne.

Keştîya rêwiyan M / S Estonia di bin Deryaya Baltik September 28, 1994 di dema rêwîtiya xwe ya ji Tallinn ji bo Stockholmê çû.
bûn, 989 kes di nav firokeyê, ku li 852 mir heye. Ji van, ji 501 swêdiyan bû. 51 Swedish de nefilitî. Çawa ku di hemû di bûyerê de 137 kes.
karesata Estonia herî xewirîn di dema aştiyê de her û her di nav avên Nordic e. Ev jî yek ji kujêr ku li ba di dema dereng 1900s de pevçûnek qewimiye.

The trip to Estonia
Ji pirtûka The şeva herî dirêj ya Christer Åberg.

Ev tiştekî ku bibe, an jî bêtir, yek ji tiştên ku ew ji bo vê civînê de gelek girîng in Tranas pêk nehat li dar bû. Û ev jî yek ji meraqên herî Xwedê vanî, wek ku min berê derbas kirine.
Piştî ku ez xilas kir, ez paşê di du dibistanên Bible çû. Di vê dibistanê de Kitêba duyem di Church evangelîst Jönköping bû. Di navê de kurt, College Bible evangelîst bû û Pastor Leif Svensson mamosteyê serê dibistanê bû. Di vê dibistanê de gundiyê bi rastî Viebäcks zanîngehê û ji bo salekê dirêj kir. Ev rastî ji bo min girîng bû.
Ji ber ku ez piştrast mezin Leif Svensson, ez di têkiliyê de bi wî re dihatin, piştî dibistanê ji bo min qediya. Ez bi kar paşê gazî wî niha û paşê. Li ser yek fersend wisa Leif re got ku ew di Yekîtîya Sovyeta berê bû û Mizgînî li ser Îsa. Gelek kes Îsa qebûl kirin û di civînan de, xilas bûn, û ew dê bi misogerî fantastîk bû.
Kabika xwe dilê min. Ez dixwazim bi be, ew di hişê xwe de, qîriya. Lê ez ê tu carî dem biçe Yekîtiya Sovyetê heye. Piştî sohbeta me hilweşiyayî împaratoriya dişixulin.
Dema ku ez paşê gazî Leif, wî ji min re got ku ew ê kampanyaya Christian mezin li qesrê Komunîst a berê li paytexta Letonya de, Riga hene. Ew pirsî, eger ez dixwest tev, û min jî xwest ku, bê guman. Ev dîsa bê guman fantastîk bû: Gelek mirov hatin rizgarkirin û belayan yên nexweşiyên sJags cuda qenc kirin.
Ev jî dê paşê bibe Gera duyem li Riga. Ev civînên dema di salona sporê mezin. Herdu kampanyayên bandoreke kûr di hişê xwe de hişt û min jî xwest ku di van bûyerên ecêb zêdetir di pêşerojê de beşdar bibin.
***
Church evangelîst li Ljungby çend daîreyên apartmanan, bi kirê û ez nuha demeke di wê de li jor derewan dijiyan hebûn. Ev yek big, an attic bi arîkan hevdîkin û skylights bû. Ev odeyeke mezin û aşxane gelek aerodînamîka û an alcove ku di rastiyê de bêtir wek odeyeke piçûk bû. Ez di apartmanê de, ku heta balkonek biçûk hebû bi vî awayî baş kêf bûn. Dema ku ez li ser balkonê de rawesta, ez a view baş ya li ser qereqola ku nêzîk bû, hebû.
Di mitbaxê de zirav û mezin, li cihê ku ez hebûn telefonê corded red min, min yek roj up Leif Svensson kir. (Ev berî telefonên mobîlê de û dema telefonên mobîl 'de bû.) Dema ku Leif Svensson ji min re got:
"Em piştî kampanyayeke mezin li paytexta Estonia. Em bi gemiyeke rêwiyan mezin ji Stockholm li wir herim wê. "
Kabika xwe dîsa li ber dilê min. Ez bi rastî dixwazim werin. Min dizanîbû çawa amazing ku ew ê ji ber ku ez di her du kampanyayên ku berî niha hatibûn. Lê ez pirsgirêkeke mezin bû. Ev kîte pere ye.
"Bi rastî ez dixwazim ji werin," Ez ji bo Leif got, hinekî xemnak û resignedly. "Lê ez dikarim vê gerê de bistanda. Ez bitenê de pere tune. "
Ji ber ku ez di vê demê de bû bêkar bû, ez li ser marjînal dijiya. Ez tu carî ji min re tiştekî zêde qumarê. Ez pere ji kaseya bêkariyê stand, û ew tenê ji bo herî kêm yê pêwîst bes bû. Her şeş hefteyan ez ji ber hinek sedeman, hinek pere zêdetir bû, lê belê. Ev ji ber faktoreke سوتان, ku ez tu carî bi rastî dikarin sirên bû. Dema Leif re hat gotin ku ez ne nikaribû bistanda, got ku ew hê jî saxlem bawer
"E pirsgirêk nîne hene. Em ê saz bikin ku. Tu dest ji rêwîtiyê gelekî erzantir e, û ya din jî nizanin. "
Ev ji ber van rêwîtiyên bû, ku "mirovên ji rêzê" nikaribû li pey. Ew bilêtên pere bi xwe, û da ku ew bikanibe alîkarîya awayên cuda li civînê bûn. Ew di nav yên din de bûn ku bi be û dua ji bo kes, gelek caran di sedan, ku hat û xwest bi wan xilas bibin. Dema ku van swêdiyan ji rêzê jî ji bo kesên ku nexweş bûn, dua kir, ku ew sax bûn. Ev a pir baweriya-building bû: Yek gotineke din rabû ser xwe, ji bo di rastiyê be, dema ku Îsa karên mezin û kerametên: Also, ez niha dizanim ku class Bible Leif dê bişopînin û beşdarî li kampanyayê. Bi vî awayî, ew derfeteke tekane bo tiştên ku ew li dibistanê Bible hîn bûbû, rabû. Ew dê bi çavên xwe bibînin ku ev kar ji bo bi Îsa bawer bikin.
Leif Svensson kirin hewldaneke bi rastî jî ji bo ku reklamê baş ji bo serdana xwe de, da ku ez li pey. Wî ji min re got ku çawa kampanyaya baş dê bibe û çawa amazing ku ew ê biçe dewletê yên di belemê art rêwiyan ji Stockholmê bi Tallinn. Em ê di kozikên xwe bi xwe li ser gemiyê de nemînin û ez bêriya niha bêtir û bêtir heye. Berya ku em li axaftina bi dawî Leif soz da ku ew dê agahiyên der barê kampanyayê de û bi belavokek nice ser rêwiyan nermîn û stately destê mail bişînin. Çend rojan piştî axaftina ez ji odeyeke mezin a jiyanê min bihîst ku çawa ev nav li slot'eke mail li derî min de werkir, û thud ji tiştekî li ser erdê li hola peya bûn. Ez bi xwe ji min? Ket heta The derî paqij bezîn, da ku bibînin, ka ev post ku gihîştin bû. Erê, li wir ew li ser tutûn bû. Min xwest ez ji bo dîtina eger di nameyê de bi agahiyên li ser rêwîtiyê Estonia hatibûn. Hemû mail din nameyên, kovar û reklamên di vê demê de ne pir balkêş bû. To, dilşahiya min, ez a zerfeke mezin bi Leif Svensson wekî şandyar dîtin.
Ez di cih de hatiye perçekirin û li zerfeke bi tiliya index min wek di nameyê de kêr carkî, derxist naveroka û dîtin ku ev agahî bit amateurish made li ser Estonia rêwîtiyê Leif ji min re şand. Çavên min jî di demeke nêzîk de bedew, broşur bixêrhatin li ser seyda luks rêwiyan mezin ku dê me ji bo Estonia bigirin hatin xêzkirin.
Ez li gemiyê mezin bi gaze dreamy xwendiye. Karta berên ji jor ve hate binçavkirin. Keştîya dûr bû û fireh ku ew li ser deryayê şîn rêwîtiyê bû bi swell dirêj spî li paş. Çi eger min nikaribû bi here. Çi jî kesîf wê bibe, bi gelek awayan.
Erê, ez bi rastî dixwestin li pey, di heman demê de li nik di hişê xwe de gava ku ez bi xwe jî ji ber rewşa aborî de min xwe di dîtin, bi bîr xist. Gelo ez çi bikim? Baş e, belkî jî tiştên ku ez her tim ji bo çi dema ku ez nav teng de an hewcedarê tiştekî bezî: Dua bikin, da ku Xwedê. Ez ji ber çokên min by di nav nivînan de li odeya xwe ya biçûk, ku alcove min bû xwar, û bi navê Îsa ji Xwedê re dua kir. Min ji wî pirsî ji min re pere pêwîst ji bo rê bidin. Û di gava ku hûn ji Xwedê re dua ji bo bersivên ji bo duayên - di yek rê de an jî yekî din.
Min hest bi couple Christian kevintir yê ku bi hevalên xwe bûn. navên wan bi Ruth û Berndt bûn û dikana hardware baş tê zanîn, li navenda Ljungby hebû. Û niha jî, ez ji bo serdana wan. Ez her tim bi wan re bi xêr û hest. Qet bû min nepejirand, li ba gava ku ez li ber deriyê wan re dibêjin. Û ew gelek caran qewimî.
Ew nêzîkî birca avê, ku li ser çiyê, çawa li jor li navenda bû dijiyan. Ev dora bîst deqeyan girt rêve heta mala brick brown xwe. Gava ku min serdana van hevalan ji min re vexwendin her tim qehwe û cookies dema ku em di sofa brown di odeyeke mezin a jiyanê xweş rûnişt.
Em gelek caran wê videos Christian bi hev re temaşe bike. Di vê demê de, wê girt hê jî VCR gava ku tu dê movies pre-tomarkirin li ser televizyonê dibînin. Ruth û Berndt bi rastî jî bi fîlmên Christian ji gelek kampanyayên û hevdîtin û civînên li seranserî cîhanê cuda pareke bû. Fîlmên pir balkêş bûn û ew bi destê xwe navdar bû. Ev piştre hem ji bo jiyana rabû giyanî û bedenî gava ku tu li wir de rabû. Em bê guman li ser Îsa re peyivîn, û li ser rewşa giyanî de li Swêdê.
Ruth û Berndt her tim gelek bi dibêjim û bi awayekî dijwar bû. Ez jî hebûn, gelek ji dil, wusa jî gelek caran dê dereng dema ku em bên pêşwazîkirin. Em hebûn her sê meyl heye ku winda bike track ji dem. Lewma, ev şaş tune bû, ku ew gelek caran bi şev bûye berî ku ez vegeriyam, çûm. Ez her tim ji bo şevên dirêj amade kirin gava ku ez wan ziyaret kir.
Yek êvarê dema ji bo serdaneke din a bi Ruth û Berndt bû. Ez ji daîreyê de min di civînê de ji komên derbas dibe, derbasî îstasyona trênê de, li seranserî meydana meşiyan û paşê yek jizilamekî xwe girê dirêj. Li ser çiyê ez ji birca avê çalkirinê zivirî tikandinê de wê aliyê din ê ku ji mala xwe birin, rabû çû gavên kevir kurt de û li zengilê derî.
Just derî vekir û min weke set Bi xêr hatî silav kirim. Wek her tim, min hest di vê demê de bi germî ji aliyê hevalên xwe stand. Ev hest wisa baş ji bo bi wan re be. Ji ber ku ez hê jî bi serê xwe di vê demê de bû, ev girîng bû ji bo min ji bo hevalên xwe fine civakî bi.
Em rûniştin, wek her carê, down li odeya rûniştinê sofa TV, dest bi sohbet, movies bûn, peyivî, qehwe vexwar, movies temaşekirin, axivî ... Bi kurtasî, tiştê ku em her tim tê bikaranîn ji bo dema ku em civiyan, û bi saetan firiya wekî berê dûr.
Sometime di dema êvarê dirêj, min dest pê kir ku li ser rêwîtiyê biaxivin, wek ku min ewqas gelek xwest ku here li ser.
"Mamoste Bible berê min li Bible School Pentîkostê, di Jönköping, Leif Svensson, wê kampanyayeke nû ya li Rojhilata Ewropayê bide", ez Ruth û Berndt re got.
"Ji bo Latvia dîsa?" Li ser pirsa Berndt dema ew sip biçûk qehwe vexwar û cûtinê up a cake.
Wî di cih de bala bû, ew ji ber eleqeya mezin li pêvajoya li welatên din jî hebûn, bi taybetî li Rojhilata Ewropayê ye. The video flickered li ser ekrana televizyonê xwe, lê niha ew bû ji nişka ve tu kes ji me bala di wê de bûn. Gest û amancê de girîngi bûn, û ew hê guhên hevalên xwe 'cemidandiye. Wan zanibû ku ez van cure rêwîtiyên di dema borî de kiriye û ew pir baş dizanîbû ku rêwîtiyên ji bo min wateya bû.
"Na, Tallinn li Estonia," ez li pirsa Smitty da got. "Ev yek wê bibe a mezin anion têkoşîna hişyarbûna ku, di eynî awayî wek kampanyayên ez li ser li Riga been."
"Çi fun" Ruth di dema wê hatiye rijandin, hin coffee zêdetir li cup vala min hilpekînd de. "Ma tu hatiyî?" Wê pirsî, xweyîkirina di heman demê de, heta ku plakaya cake ji bo min ku ez ê heta cake ji bo ji nû ve hatiye rijandin, bi qehwe bigirin.
"Ez bi rastî jî dixwazim mîna ku," min got, "lê a snag biçûk heye. Ez ti pere ji bo gerê, da ez tu carî, ku here. "
Ez qey ez bi rastî jî ji ber ku dema ku ez behsa dawîn ne. Ev couple ango çiqas pere hene. Ew store gel û mijûl in Ljungby girt. Lê em, ku bi eşkereyî li ser her tişt, da ku ji ber vê yekê ev bû, bi rastî tu li ser lava part min.
Em berdewam li ser her tiştî bipeyivim, lê dema ku bell nîv bibe borî de diwanzdeh hebû, min digot qey ez Jixwe wê demê de bi dawî Community me ev bû. Di hevpeyvînekê de ji bo demekê li ber derî li ber dewam berî ku em dawiyê de qetiyane.
Ez dimeşiyam, di Naşê re avêt dirêj û wekî berê views mezin yên li navenda di tariyê de bû. Streetlamps, mal û dikanên serdest a xwe di tariyê de pêxistin li ser rêya vegerê de ji mala min navbera sînemayê ya bajêr û rawestgeha trênê.
Piştî ku em ji hev veneqetîbin ku şev li ser tiştê ku ez li ser rêwîtiya Estonia re gotibû qey Berndt. Eger ez dixwazim biçim li ser trip, lê min nexwest ku derfet ji ber nebûna derfet tune ne.
"Eger Chris me silav dike, dîsa berî serdana xwe de, ez ê wî ji peran bidin," şêwirîn Berndt xwe.
Ev ramanên ez bê guman tiştekî li ser dizanibû. Berndt ji min re got çiqasî piştî ku ew ê ji min re ku fonên pêwîst bidim, eger ez dîsa ber trip were. Tiştê seyr ew bû ku ez wî nas nakim.
Ev beşeke biçûk ya li gerdunê û rêberî zelal Xwedê bû. Ez ji bo peran ji bo gerê pirsî bû, lê ez jî ji bo jina xwe pirsî bû. Xwedê niha kar dikir, da ku ez dê di demeke nêzîk de derfet ji bo bersivên ji bo duayên hene.
***
By vê demê de ez ku bêkar re hat gotin. Her şeş hefteyan, ez ji bo bidestxistina pereyê zêde ji kaseya bêkariyê, û niha ew dem dîsa bû. Ev ez bi temamî ji bîr kiribû, lê dema ku ez bi tiliya index min rahîban vekirina zerfê ji kaseya bêkariyê im, min dît ku ew li ku pere zêde di vê demê de derxistin. Ji nişkê ve bû ez bi xwe nînin gerê ji bo Estonia.
Lê tiştek di hişê xwe de pêk hatibû. Interest di rêwîtiyê ji bo Estonia êdî li wê derê bû. Ev bi awayekî wenda kiribû, dema ku ez li benda. Ev ji bo kampanyayê de tê plankirin di Tallinn di dilê min de pir bê deng bû. Ez hîç naxwazin naherikin biçe Estonia hebû.
Min jî got, hevalê min Tomas ku min ji civînê evangelîst girt û min qezenc Îsa, ez niha ekstra pere li hesabê hebû. Ewî zanibû, çiqas min dixwest ez diçûm Estonia, lê ji bo ku aboriya a peyivî di wheel danîn.
"Lê belê piştre daxwaza Xwedê ev e ku hûn herin ye!" Gava ku ez ji wî re got nûçeya ku pere ji wî re çênabin qêriyam. Tu car ez dê bersiva min ji bîr gava ku ez gez grimly, di heman demê de bi cezakirina mezin lê vegerand û got:
"Na, ev e ne."
Min nedixwest bi rastî jî ne dizanin ku min çi got. Ev tenê bi awayekî ji devê min û lêvên min hat. Ez li vir têkoşîna dîtin û xwest ku destûr were dayîn ku biçe ji bo Estonia. Dema ku ez dawîyê de derfet, min got ku ev daxwaza Xwedê ne.
Niha paşê ez fêm bikin ku ew bi rastî jî bû min ne ku ev got. Ev Ruhê ku bi min re peyivî bû. Ji bo ku bila bi "ruhanî" an Cocky, ez ÊMEYE xwarê, lê belê, ew bi sivikî ji aliyê wiha got:
"Ez ev hest ne."
Min digot qey ew li boriyê hinekî çêtir be, da cocksure. Lê belê piştî daxuyaniya ku wê mijarê dawiya hat niqaş kirin. Karin qet hildan tiştekî din - û ez jî nizanim. Tiştek di hişê xwe de di derbarê kampanyayê de li Tallinn bûyî. daxwaza min bi temamî jî firiyam hewa û min nikaribû bi rastî fêm bikin.
Ez herimê wê demê de, û ez her û her sipasdar im. Piştre, min dît ku ew Xwedê ku, di vê rê de min bi awayekî mucîzeyî dibirin bû.
***
Jineke ciwan li Linkoping, tenê çend mehan ji min piçûktir, bi ser ku herin li gerê heman guman. Ev jin bû, berevajiya min, ku di malbateke Christian mezin bû. Ew bi vî awayî xilas kiriye û ji niha ve bi rê dabû ku wek mizgînvanê ku di parish kar. Çend sal berî wê Îsa ji bo nûkirina re hevdîtin kiriye û niha jiyaneke rêdan ji bo Xwedê bû.
Hinek ji hevalên wê ji bo demeke dirêj hewil da ku wê bandorê ji bo tevlî me bibin li ser vê rêwîtîyê amazing û netirs wek ku dê bê wê wateyê ku ez bêm ba Estonia. Lê wê ji bo sure çawa ew ê çi ne nas. Gelo wê li pey an ne? Ew bi rastî jî di du hişê li mala xwe de li mala du-odeya xwe li Linköping bû.
Li ser sifrê di metbexê dihise, wê cawên tam eynî li milê trip bi min re bû. Ew bê guman nisxeyek ji broşurê xweşik li ser firoka rêwîyan nermîn, ku ji gemiyê bi heybet û li ser deryayê şîn bi Piştî spî li pişt nîşanî hebû.
Hene, di mala wê de, ew a wrestling hem bi mirovî de û bi Xwedê re bû. Çawa dibe ku ew çi bikin?
A di demeke kin de, ez bi xwe jî li navenda bû û doz kiriye. Li ser rêya malê ku bû êvar, ez bîr tînim, ev pir baş, ez berê firoşî çû. Bi taybetî jî yek ji vê sernivîsê derve re şaşwazî ji yên din bû, bi dîtina min ew ji nîvê sê bû. Ez nêri û hindik ew dişîne, gava ku ez li kiosk re derbas bûn. Sernivîsên, ew bi tîpên mezin reş bû: "Ferry di Baltik di şevê de noqî - li ser 800 mirî"
Tevî ku löpsedeln xerab û şoke dike, ez jî wusa diyar bi zorê. Probably ji ber ku min bawer dikir ku ew ne li hemû li min da, û ew her tim dibe dereke din û ne "here". Li gel vê, ez guman ramana şaş e, da ku ew ê ji me re li Swêdê bandorê ne, di heman demê de gelên din û welatên. Gellek caran li gel çi bû û ez hinekî cuda, ku dem ne. Dema ku qezayên û felaketên çi bibe, ew her tim kesekî din di cîhanê de. Ev nayê wê li Swêdê pêk nehat û hindiktir serê ez im. raman xerîb, lê, mixabin, dikare bibe.
Serê sibehê zû, ez bi dizî rûnişt û taştê li metbexê min ez li cereal min û a sandwich bi salam xwar, heta ku ez absentmindedly bi bultena nûçe ên radyoyê guhdarî.
Newscaster derbarê karesateke mezin li Deryaya Baltik re dipeyivîn. Ji nişkê ve ez ji löpsedeln ez bi şev berê dîtibûn û bibîr xist. A têdebûn, yekser û zêdetir ji 800 kesan jiyana xwe ji dest dabû. Ez dest pê kir, bi seqbêrî guh more. Nûçegihanê got ku di belemê li ser rêya xwe ya ji Estonia Swêdê di nîvê şevê de, di bin pêlên deryayê yên çûbûn bû.
Estonia? Lê belê ew bû ji bo Estonia, ez dê li gera xwe çûbûn? Û ew li wê derê bû ku Leif Svensson re rêwîtî dikirin û piştî kampanyaya xwe. Wî her wiha ji bo ku şîrketa mezin a ku dê biryar dabû. Bi ser de, hema hema hemû class dibistanê Mizgîniyê de ji bi be.
ramanên min dîsa qut bûn, dema ku Newscaster dubare bi navê keştîyeke ku ji binê okyanûsan binoqîne jî, "bi navê têdebûn Estonia e".
Ji nişkê ve, ez bi temamî sekinîn bû û digot nayne: Estonia? Ne ku ku qeyikê mezin hat gotin ku wê me ji bo Estonia bigirin?
Ez dev ji cûtina li min pirtikên û anîn xwarê Çavreşa. Sandwich bi sosîsên kêşayî, bila ji min re be, û ez bi pêş li şûna têgehên di pile rojnameya xwar. Di nav rojname û reklarnblad ez ji bo vê broşurê de nêrî, ku bi lez ji bo dizanin ku bi navê gemiyê.
Ev bû demeke dirêj ne li ber min ew dîtin. Ne bê tirs ez li picture bi gemiyê giant ku bi quretî li ser golê bi gevizî pêlên pişt digeriya nêrî. Çavên min bi xîret ji bo navê gemiyê, ku bi tîpên reş zelal di belemê mezin hatibû nivîsîn lêgerînkirin. Keştîya di bar picture bi rastî bi navê Estonia.
Ez li broşurê de picture xweş nihêrî. Nûçe dengê min bihîst, heta êdî ne. Estonia: tekane tiştê ku niha di xeyala min de hebû bi navê gemiyê de bû. Ez wê bixwînin, li ser û li ser dîsa. quretî ji welatê Baltik biçûk ya M / S Estonia heta binî yekser. Dostê min Leif Svensson û tevahiya hevalên xwe dibe li ser forumê bû. Û ez jî dixwazim tev.
Dema ku ew li ser min romiyan ku ew bi rastî jî Estonia bû ku şehîd ketine, toted up pirsên di serê xwe de. Ez ji bo bîskekê dirêj li ser maseyê rûniştin û fekir biçûk broşurê de reklamê amateurish li ser kampanyayê û di broşurê de profesyonel çiqas bêtir Estonia, niha xuya li binê Baltik derewan. Hema gazinên û hinekî tê astengkirin, min dît ku du broşurên ku dema min hewl da ku bi hev re li picture of çi qewimî. ramanên min ji Leif Svensson çû. Ji nişkê ve, ew ji min xist, ku ez ji jina xwe, Sara re dibêjin. Ew ne li ser seredana xwe herin vê demê de, wek ku wê carna kir. Ew di nav tiştên din, li pey Riga li ser heman trip ez li ser minasebeta ya din jî hebû,. Lê di vê demê de, ew ji bo ku li malê bimîne bijartin. Ez telefonê corded red xwe rakir û bi 036 hejmara Jonkoping yên desta.
Tenê çend îşaretên nikaribû berî wê vegerand. Probably Sara rûnişt û bi telefonê temaşe wê rojê, ji ber ku ev dibe gelek ku kir û xwest ji bo bihîstinê çi qewimî bû. Leif gelek hevalan re hebû û bê guman gelek ji mirovên di riya karê xwe dizanî jî. Bi rastî jî gelek malbatên xwendekarên ku xwest ku digerin bêtir agahîya li ser lêzimên xwe ne li wir bû. Sara piştrast kir, ku Estonia gemiyê Leif bû û li hemû partî li ser bû. Bi vî awayî wê re got: hevokê ku ez qet ji bîr nakim wê:
"Lê ez hêvî ewqas tune ne ..."
Ew ji ber vê yekê tu hêviya ku Leif Japonê bû. Û ew nekir. Ew û serwêrê din, Lennart Carlsson, li gel gelek ji class Bible, yên din yên partiyê de, û bi sedan kesên din yên ku bi şev di kûrahiya deryayan hatin kuştin dema ku Estonia di panzdeh deqe noqî.
***
Ez li ser vê bûyerê, ji carekê zêdetir digot. Min dikarîbû li ser forumê Estonia bû. Li şûna ku li jêr li ser trip to Estonia, ez hilbijart ji bo ku li malê bimînin, ji ber ku ez bi "hîs" ji bo wê.
Jin ji Linkoping, di vê navê de, bi navê Marie, biryar da ji ber hin sedemên çûna Îsraîlê bêtir ji Estonia - tevî ku ew di destpêkê de biryar da ku beşdarî kampanyaya trip Leif Svensson da.
Dema ku ez piştre hîn bûn ku ez hê bêtir çawa qasî bi Xwedê ji min û wê birin, fêm kirin.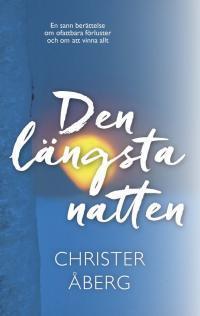 Ji pirtûka The şeva herî dirêj ya Christer Åberg published by Semnos weşanxaneyên . Chapter 2: Journey bi Estonia. Rûpelan, 25-36.
Christer Åberg

Ditt stöd behövs
Stöd Apg29 genom att swisha in 29 kronor till 072 203 63 74.
Tack!